Custodians, as we brace ourselves for the ascent of the Shattered Peak, be sure to bundle up against the unforgiving, bitter cold.
Sector 2 takes you to a frozen Sanctuary in the deepest depths of the Arctic wasteland. With a new Custodian Suit, Guard, Deco Packs and more, there are a ton of horrors to unravel, and loads of fresh Building and Raiding strategies to experiment with.
But that's not all, this update brings in an all-new difficulty system, a slew of quality-of-life updates, bug fixes, balancing changes and even more! Let's dive into the patch notes, shall we?
NEW CONTENT
New Environment: Shattered Peak

An all-new Outpost environment deep in the vast and unforgiving Arctic wasteland.

New Guard: Assassin

A hunter that relies on stealth to ambush its target. With a cloaking field based on Holocube tech, it remains nearly imperceptible until it unleashes a devastating dash attack.

New Custodian: Overseer

The Overseer can slowly glide after jumping. In addition, its powerful Biolinks can reveal the location of the Harvester Path, Forsaken Tombs, and nearby resources.

New Deco Pack: Ice

A Deco Pack inspired by the Arctic wasteland, featuring blocks of ice, frozen metal, thermal heaters, fluttering tarp, and a decal set featuring the markings of a northern shelter.

New Cosmetic Collection:

New Deco Pack: Lab: Design your own frozen laboratory with winter-proof panels, computer modules and lighting, and a set of decals to guide or deceive Raiders.
New Cosmetics: Gear up with the Epic Icebreaker cosmetic for the Overseer Suit, and the Epic Yeti cosmetic for the Volt Lancer.
NEW DIFFICULTY SYSTEM
There's no right way to build an Outpost—and that's a good thing. With traps and guards around every corner, players know to expect the unexpected when raiding Outposts. But what shouldn't be unexpected is a difficulty spike after you've chosen an Outpost to raid. We want everyone's journey to be as fun as possible, and that includes better accommodating different player preferences.
This new update brings an overhaul of the difficulty system that will make it easier for Raiders to choose the kind of Outposts they want to play. This change affects not only how difficulty is displayed, but also how it's calculated.
Previously, Outpost Danger Score (Normal, Hard, Brutal) was calculated solely on automated factors such as guard and trap placement in relation to the Harvester path. With patch 1.4 we made several tweaks to this system, taking into account trap density, trap combos, and many other factors. We've since made even more changes and fixed several bugs based on player feedback that resulted in more difficult Outposts appearing in the Normal category.
In addition to this modified initial Danger Score, our new system will have a dynamic component that assesses both the Raider and the Outpost to make the difficulty score a living, breathing rating that can rise or fall depending on Raider performance. Factors such as skill level of the Raider, number of times they died, and more will be considered as the Outpost difficulty score gradually adjusts.
When Sector 2 launches, we'll be turning on this new dynamic component in the background to collect data, fine-tune the system, and to let initial ratings stabilize. Soon after, with our upcoming Mid-Sector update, we'll be fully launching the dynamic Outpost difficulty system and rewards for players. The more you raid, the more accurate our difficulty system will be. So we're calling on you, Custodians—raid as much as possible!
And finally, in preparation for this change, and to give players a more accurate view of difficulty, we'll be supplementing an Outpost's categorization as Normal, Hard, or Brutal with a 10-point difficulty scale symbolized by skulls. The more skulls you see, the deadlier the Outpost.
Whether you're seeking a high-speed challenge or a slower, more calculated experience, we want Meet Your Maker to work for everyone. This system will help make raiding a more consistent experience and let you better choose the type of challenge you're after.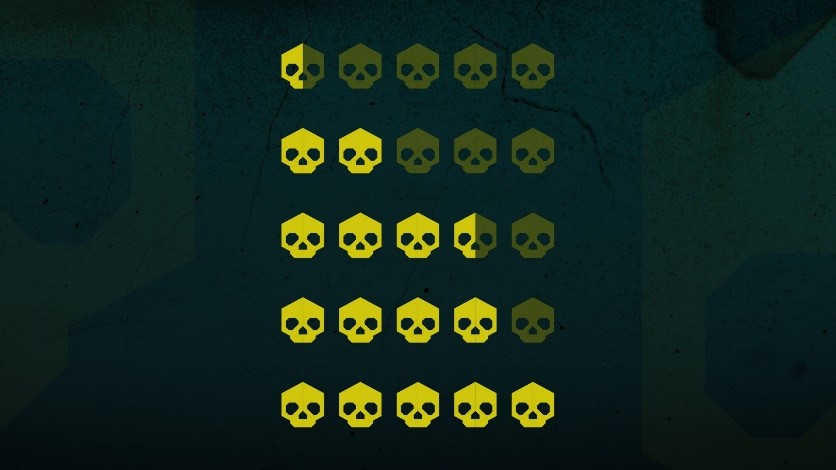 SECTOR 2 RANKING SEASON HAS BEGUN & SECTOR 1 RANKING REWARDS
The new Sector 2 Ranking Season has begun, and for players who participated in Sector 1, the following Cosmetic rewards will be rewarded based on your Rank tier.

Gold or higher: Stormforce Kamataichi Suit Cosmetic
Silver or higher: Misfortune Volt Lancer Weapon Cosmetic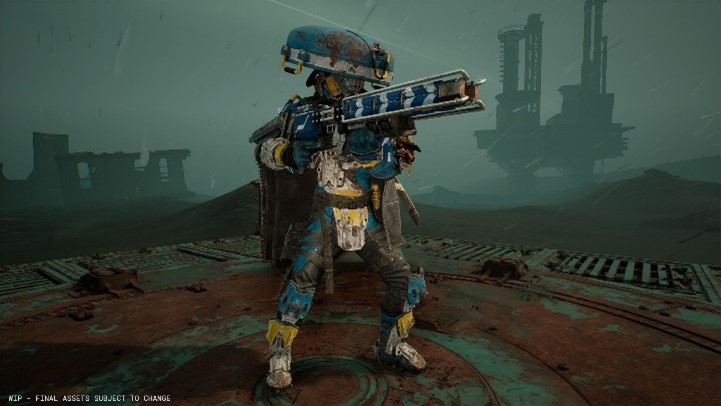 The following Decals will also be rewarded based on your Rank tier.
Master Sector 1 Decal
Gold Sector 1 Decal
Silver Sector 1 Decal
Bronze Sector 1 Decal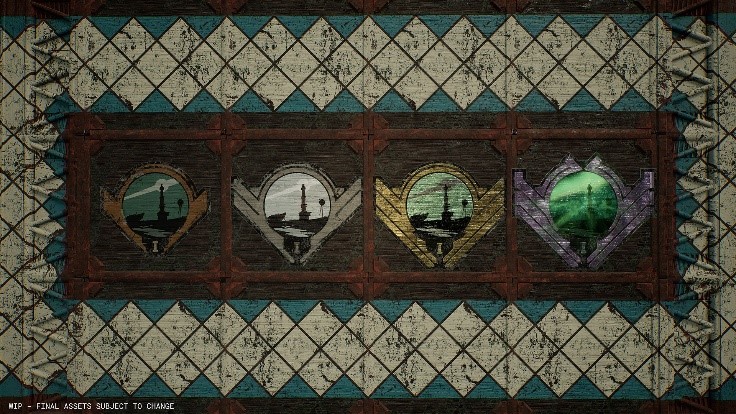 Stay tuned for the full reveal of the Sector 2 Ranking Rewards in the coming weeks!
QUALITY OF LIFE
Mouse and Keyboards are now supported on consoles.[JC1]
FSR (FidelityFX Super Resolution by AMD) is now supported on Steam Deck.
Loot registration (when loot is collected and added to the wallet) should be much more reliable now. This should address some of the issues raised by Raiders where loot wasn't properly added to their wallet at the end of a Raid.
We have changed the loadout 3D preview lighting colour for a more neutral light colour, instead of a yellow light.
BALANCING CHANGES
Arsenal Items Cost
Following player feedback, the following items' Cells cost has been reduced from 15,000 Cells to 7,500 Cells:

Sector 1 Arsenal Items:

Nautilus Suit
Demolition Cannon
Ravager Guard
Sentry Beam Trap

Sector 2 Arsenal items will also maintain this new, reduced cost.
Guards
The community let us know that the Ravager tuning in the Rising Tides update was a little too harsh. We have done some further balancing to support its intended role of a short-range pressure unit better.

The Ravager's attack spread pattern has been reshaped to be wider.
We've decreased the charging of the Ravager's attack slightly, and increased its fire rate, allowing the initial engagement to be a little quicker.
Traps
In our recent Player Pulse survey, the community let us know that the Iron Claw, Incinerator, Plasma Sentinel and Sentry Beam traps needed some additional balancing. As such, we've made the following changes.
The warning time for the Iron Claw has been decreased from 1.0sec to 0.7sec.
The Iron Claw's Quick Launch mod's grapple fire speed has been increased.
The Incinerator's reload time has been increased from 1sec to 1.5sec.
The Plasma Sentinel's detection range has been decreased from 24m to 22m.
The Plasma Sentinel's reload time has been slightly increased from 2.25sec to 2.75sec.
The Sentry Beam's tracking speed has been slightly increased, and the tracking duration has been decreased from 3sec to 2sec.
The Sentry Beams' Burst Beam mod tracking duration has been decreased from 2sec to 1sec, and its warning duration has been decreased from 2sec to 1sec.
Biolinks
Quick Strike: Melee lunge speed has been increased by 10% for each stage.

Stage 1: 25% (from 15%)
Stage 2: 40% (from 30%)
Stage 3: 55% (from 45%)

This change was implemented to ensure that Raiders get out of the lunge animation quicker.
Loot
Loot states are now registered on the backend during Raids, meaning loot will have persistent diminishing returns for a given Outpost. This will prevent "loot farms" from being abused by returning Raiders.

While these types of Outposts are clever and cool, and fun for one go, it can be unfair to grind these.
BUG FIXES
Raiding:
We have fixed an issue causing Guards to attack Raiders while standing at the edge of (but still inside) the Safe Zone.
Fixed an issue causing the Ravager to become idle despite having line of sight on Raiders.
Fixed an issue preventing users to respawn in the Safe Zone shortly after exiting the Safe Zone.
Fixed an issue causing loot to sometimes clip into blocks.
Building:
We have fixed an issue causing Test From Here to not always spawn players in their current position.
Added a missing Building HUD prompt for the "Hide All Range Previews" action
Fixed an issue causing Plasma Sentinel's Danger Score to not be calculated properly in certain setups (This could cause some existing Outpost's Difficulty ratings to increase.)
Co-Op:
We have fixed an issue which caused co-op guests to receive a disconnection error when attempting to join the Host while in Building Mode.
Fixed an issue which occasionally caused the game to infinitely load when a host on a last-gen console loads into a Raid with a guest on a current-gen console.
Fixed an issue which caused players to crash when returning to the Sanctuary while in co-op.
Fixed an issue which caused the title to crash when Raiding or in "Test My Base" while in co-op.
Social Mode:
We have fixed an issue causing the Social Raid icon to not always show in the Replay Menu.
Fixed an issue causing XP icons to show in Social Raid.
Replays:
We have fixed an issue causing projectiles to display inconsistent colours in Replay.
Fixed an issue causing Replays to not record the first death of a Raider.
Fixed an issue causing partial loss of input when quickly navigating to the filter tab in the Replay Menu.
Miscellaneous:
We have fixed an issue causing modified key bindings to reset after recent patches.
The haptic feedback caused by Death Pistons has been toned down on PlayStation 5.
Fixed an issue preventing proper navigation of the My Outposts menu on Xbox platforms.
Fixed an issue causing the Strip Mine Boost to not influence loot earned as a Builder.
Fixed an issue causing new item notifications to show in context where the new item cannot be accessed or viewed.
Fixed an issue causing available Daily Challenges to not be updated immediately after a Refresh action.
Fixed an issue leading to users at the Master Rank level to be ranked below users with less Ranking points.
Fixed an issue preventing some users to be able to delete an owned Outpost on Xbox consoles.
Audio:
We have fixed an issue causing the Plasma Sentinel's cloud VFX to suddenly disappear when using the Plasma Cloud and Self-Destruct mods.
Traps:
We have fixed an issue preventing trap mods from the Explosion category to not destroy certain traps while in range.
Fixed an issue causing the Hardened Skin mod to not block Incinerator fire.
For status updates on ongoing known issues, please refer to our Known Issues Board here: https://forums.bhvr.com/meet-your-maker/discussion/378404/meet-your-maker-known-issues-board
To report any new issues, please contact our player support team by opening a ticket here: https://support.meetyourmakergame.com/hc/en-us/requests/new
WHAT'S NEXT
The world of Meet Your Maker is ever-changing, and there's a lot to look forward to. The next few months will bring exciting new updates, starting with our Mid Sector 2 update, featuring Raiding 2.0: Expeditions. For a full breakdown of Expeditions, check out our recent dev stream here:
Meet Your Maker I Sector 2 + Expeditions (Dev Stream VOD)
Check out our future roadmap below for a quick look at what's on the horizon, then stay tuned for full details!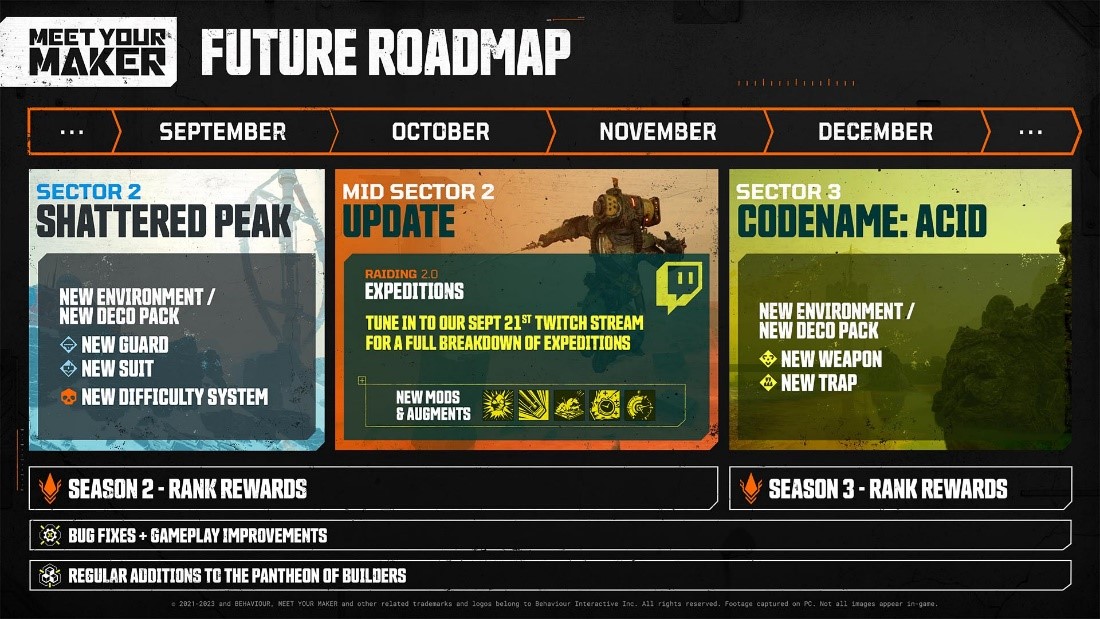 See you up on the Shattered Peak, Custodian.
-The Meet Your Maker Team
---
We should say on console specifically. To call out console players [JC1]